Business Mobiles
Save time and money on your business mobile phones with A1 Comms.
Discover the right network, airtime plan and smartphone solution to make your mobile working faster, smarter and more cost effective.
We will guide you through the latest offers from EE, Plan, Vodafone and O2 make all the options clear and take the headache out of finding the best solution to suit your business needs.
Get in touch for more information
Get in touch with our team of business solution experts today to discuss your requirements and allow us to perform a FREE tariff analysis, plus a competitive quote, to save your business time and money.
Request a Quote
Contact Us
Call: 01773 522 300






Saving You Money
We will work with you to identify how to save you money on your current annual spend on communications by finding the best and most appropriate tariffs for your business. We work with four of the UK's biggest networks which means we are able to offer you deals that aren't available through other suppliers.
Before A1 Comms analysis
After A1 Comms analysis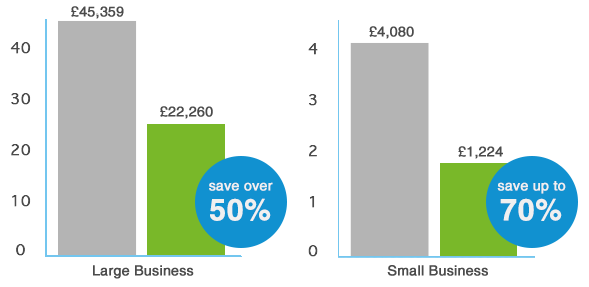 Request a Business Mobile Phone Quote
Please complete the form below to request a business mobile phone quote or to discuss your requirements in more depth with one of our business solution operatives or call: 01773 522 300
Why Choose A1 Comms for your Business Mobile Phones?

Free Tariff Check
We will provide an analysis of your current Business Mobile Phone usage for no fee. We can then provide an independent and no obligation quote suited to the specific demands of your business.

Money Saving Guarantee
Our team has helped businesses of all sizes reduce their Business Mobile charges and would be happy to do exactly the same for you.

Friendly Advice
We can offer you expert advice on which tariffs and packages are suitable for your Business Mobiles. Failing finding a match, our team will seek an appropriate deal for you from mobile networks.

Extensive Range of Options
Whatever your Business's requirements, we have an option to cater for you. From SIM only to pay monthly plans we will provide you with just what you need.

Bundles of Data
We can offer you Business Mobile Phones with huge amounts of data. We can provide data sharing options as well as data led plans to get you the most from your usage.

Dedicated Accounts Manager
Let us remove the stress brought on by your Business Mobiles. We will search for deals for you to find the best possible tariffs and help you select appropriate devices and even sort out all of the paperwork including any returns and insurance issues should we need to.
Origination
Savings: 43%
"Having reliable mobile connectivity with colleagues, clients and suppliers is key for any business. The service provided by A1 Comms not only removes the stress of managing the mobile phones contract, but gives comfort that we have the best deals and the best handsets at all times. We would recommend A1 Comms to any business seeking a highly professional partner for the provision of their business mobile phones."
Valerie Leatt
Director, Origination, Derby