Microsoft Mobile Phones
Make your business even more mobile with a Microsoft device.
Staying connected to all your important information while you're on-the-go using Office apps, including Word, Excel and PowerPoint, and seamlessly sync your calendar, contacts and emails from your PC to your device.
There's a raft of security features on Microsoft handsets so you can not only back up all your data, but remotely lock your mobile via the internet to keep everything safe, should you lose your phone.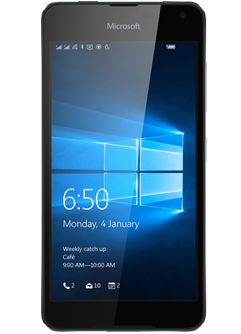 Microsoft Lumia 650
Perfect as a work phone that integrates seamlessly with your company's Microsoft IT platforms, the Lumia 650 features built-in security measures and easy Office 365 set up, for the mobile versions of Word, PowerPoint, Excel, Outlook and One Note. All of the services you need to stay productive go wherever you go.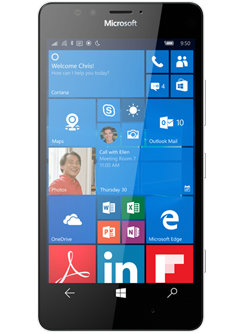 Microsoft Lumia 950XL
An octa-core processor and 3GB RAM ensure the fastest Lumia experience yet. A 5.7-inch Quad HD display produces the most spectacular view you've seen on a Windows device. And USB-C Fast Charging and a large battery see that you spend less time plugged in, and more time playing games, watching videos or working on documents.
Get a FREE Tariff Analysis & Quote
Get in touch with our team of business solution experts today to discuss your requirements and allow us to perform a FREE tariff analysis, plus a competitive quote, to save your business time and money.
Request a Quote
Contact Us
Call: 01773 522 300
Microsoft for Business

Cortana
Your SmartPhone assistant checks your calendar, helps keep you organised and can find information for you at the touch of a button.

Microsoft Office
All your Office documents can be viewed, edited and saved using your favourite Office apps.

Safety First
Microsoft's robust security protects important business information against malware.
* Valid with the purchase of new Lumia 950 or 950 XL and offer registration from January 14, 2016 to June 30, 2016, or while supplies last.
Why Choose A1 Comms for your business?

We'll save you money
A1 Comms have helped companies of all sizes slash their communication bills.

Free Tariff Analysis
We will analyse your current usage and provide a free, no obligation bespoke quote.

4G for your business
Superfast 4G speeds mean faster transfers and download, smoother video conferencing and more!

Expert Advice
We'll advice on our most suitable tariffs and negotiate a bespoke deal for you.

Wide range of options
We off monthly & SIM-only plans and 4G mobile broadband, smartphone and tablet options.

Data rich plans
We offer 4G data led plans with sharing options to help optimise your data usage.

Your Account Manager
To help you find the best value package, port your numbers, sort out the paperwork and more!

Unified Communication
A1 Comms can offer a full suite of business comunication services all in one.