Business Upgrades
We can upgrade your business mobile phones on all networks.
Why settle for something you don't want or need? If you are nearing the end of your contract and are looking to renew, A1 Comms can take care of you no matter what your requirements may be. We can supply all the latest handsets and offer you bespoke tariffs.
When to upgrade

Your Contract Has Finished
Renew your commitment and stay with the same network. We will help you find the best tariffs to suit your business's specific needs. If you're looking to get on board with another network provider, we will work with you to find the very best deal.

The End Of Your Contract Is Close
If you're close to the end of your contact, we can help. We can usually help if you're in the last six months – don't wait until thirty days before your contract is up. We'll assess your situation and advise you of your options. Whether you're completely unsure or leaning towards sticking or leaving a network, we'll work with you to find the best resolution.

Your Requirements Have Changed
If, for whatever reason, your business requirements have changed, A1 Comms can work with you to ensure that tariffs and devices are suitable for your company and applications. We go out of our way to ensure you get the best deal with business mobile upgrades.
Saving Money with Business Mobile Upgrades
We understand that you don't want to be paying for extras you don't want or need. That's exactly why we make it our mission to ensure this doesn't happen. Our expert team will perform a free usage analysis of your phones.
Based on this actual information, we will present you with business mobile upgrades quotes that match your needs. This no obligation quote will reflect your exact requirements. We really are that dedicated to getting you nothing but exactly what you need.
A1 Comms offers an extensive range of the latest and greatest makes and models so you can be sure if there's something you've got your eye on for your upgrade, we can give it to you. From Apple to Samsung, iPhone to Galaxy, you'll find them all here.
We save businesses thousands of pounds every year on their upgrades and would be more than happy to do the same for you. There's no reason to delay. If you're looking for new phones for your company, get in touch with us today to find out just how much you could be saving on your communications bills.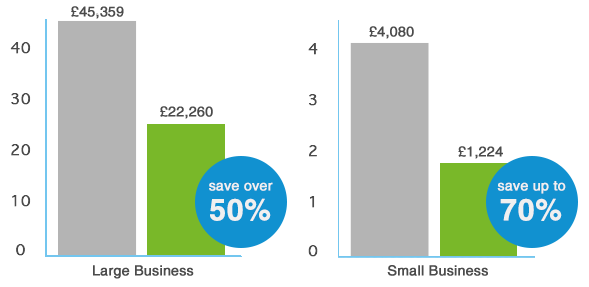 Upgrade Networks
EE Upgrades
Looking for the fastest data speeds and widest coverage in the UK? Choose EE for your new handsets and it's all yours. Wi-Fi Calling, shared and single plans and EU inclusive packages can be taken out, ensuring the perfect business mobile upgrades are available.
O2 Upgrades
Upgrades with O2 come complete with a wide range of benefits. Unlimited O2 to O2 calls, travel and data bolt ons and one of the biggest 4G networks put you in complete control. We're an official O2 Partner, too, so we can get you even more from your handsets and tariffs.
Vodafone Upgrades
A1 Comms is a Vodafone Business Silver Partner, offering some of the best deals for upgrade seekers. Super low roaming tariffs, mobile workforce management and virtual landline can give you that something extra to take your company to the next level.